—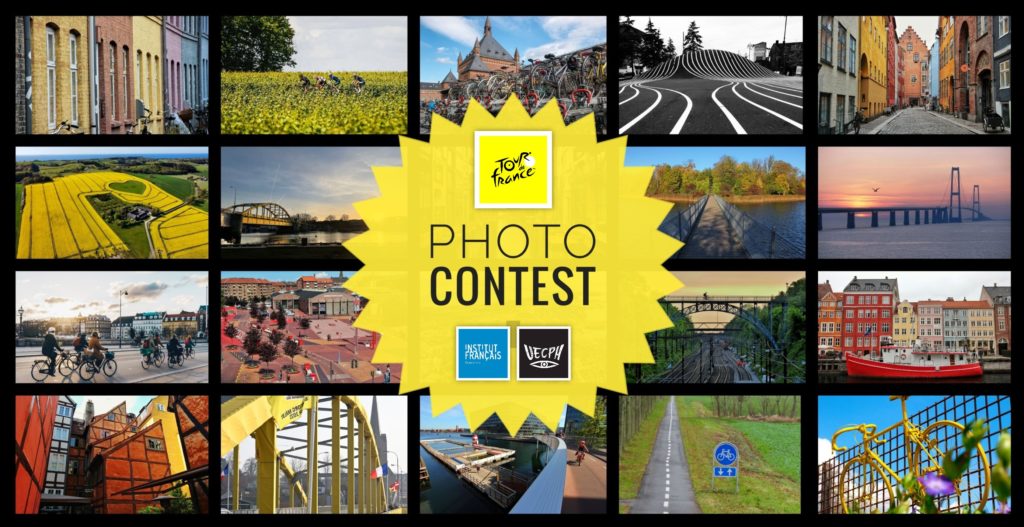 Fotokonkurrence arrangeret af Det Franske Kulturcenter i Danmark og UECPH til Grand Départ af Tour de France 2022 i Danmark !!!
For at fejre denne store begivenhed og dette nye samarbejde mellem Danmark og Frankrig, ser det ud til at være en god mulighed for at fremhæve de smukke danske steder, som cykelløbet skal krydse under de første etaper af Tour de France.
Konkurrencen er åben for alle, både professionelle og amatørfotografer. Vi har besluttet at holde et åbent tema for at lade din kreativitet tale: "På vej til Tour de France". (Der skal sættes særligt fokus på placeringerne af de tre danske etaper: https://letourcph.dk/oplev-tre-etaper)
HVORDAN
Du har to muligheder, hvis du vil deltage i Fotokonkurrencen:
Post dine billeder på Instagram med hashtagget #FotoLeTourDK,
Send os dine billeder via email til "urbexplorer.cph@gmail.com" (max 3 billeder pr. person) senest den 15. juni.
Alle udvalgte billeder vil blive printet og udstillet i Tour de France-village, der bliver installeret på Kongens Nytorv.
En afstemning vil blive organiseret i landsbyen og online for at vælge vinderne af de flotte præmier, der vil blive tilbudt, flere detaljer kommer snart 🙂
Fotograferne vil naturligvis blive krediteret, og vi kontakter dem, hvis der kommer økonomiske tilbud på deres billeder.
—
Photo Contest organized by The French Institute and UECPH for the Grand Départ of Tour de France 2022 in Denmark!!!
In order to celebrate this big event and this new cooperation between Denmark and France, it seems to be a great opportunity to highlight the beautiful Danish places that the race will be crossing during the first stages of the Tour de France.
The Contest is open to all, both professional and amator photographers. We have decided to keep an open theme in order to let your creativity speak: "On the road of the Tour de France". (A specific focus must be put on the places of the three danish stages : https://letourcph.dk/oplev-tre-etaper)
HOW TO PARTICIPATE:
You have two options if you want take part of the Photo Contest:
Post your photos on Instagram with the hashtag #FotoLeTourDK,
All selected photos will be printed and exhibited in the Tour de France village that will be installed at Kongens Nytorv. A vote will be organized in the village and online in order to elect the winners of the great prizes that will be offered, more details are coming soon 🙂
The photographers will naturally be credited, and we will contact them, if any financial offers on their photos are made.