Click HERE (or on the poster below) for the map 🙂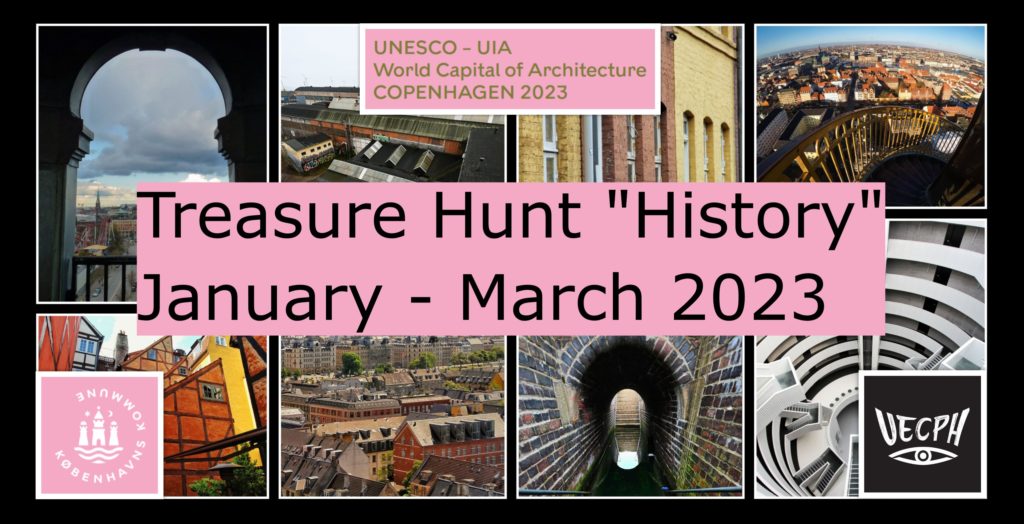 —
Huge and free treasure hunt for all! After the great enthusiasm generated by its previous editions, UECPH arranges a new hunt in Copenhagen in order to highlight some of the architectural gems of the city!

Copenhagen has been nominated as World Capital of Architecture 2023 by UNESCO-UIA, and three different Treasure Hunts will be organized on this occasion thanks to Københavns Kommune and Arkitekturhovestad. This first one will be focused on the historical side of the architecture of Copenhagen. 

You will find your way using a digital map that will guide you to 12 historical locations in Copenhagen. When you arrive at each location, you will have to find a padlock with an informative text and a riddle 🙂
How to participate:
– Find the 12 spots and their padlocked riddle thanks to our online map.
– Take one creative photo of each spot or its close surroundings
– Send your 12 answers and your 3 best photos to urbexplorer.cph@gmail.com the 17th of April at the latest (and you will get the correct answers back).

The main goal is to make you (re)discover this amazing city from a different angle, and to learn some fun and interesting facts about Copenhagen and its architecture 🙂 Download our map, grab your camera and explore some amazing places in Copenhagen! A random draw will be conducted to find the winners of some prizes to be won.

(By sending your photos, you allow UECPH and Københavns Kommune to use the pictures with credits on their medias)"